Brandenburg Gate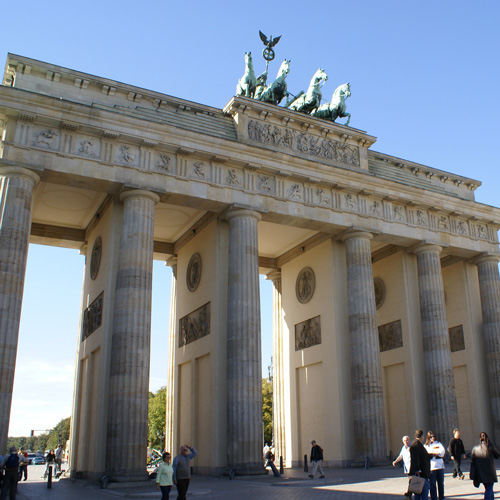 It is the last existing gate of a wall that surrounded Berlin until 1860 serving various purposes: soldiers were prevented from desertion, citizens were controlled and taxes charged. The square in front of the gate, Pariser Platz, was designed in 1730, the gate itself dates from 1789. It is the first example of Neo-Classical style in Berlin, based on the Propylaea gateway of the Athens Acropolis. Originally, the Quadriga statue and the bas-reliefs, depicting figures from Greek mythology, were meant as symbols of peace, following victory. Reality took on a different course and since French troops entered Berlin in 1806 it became more associated to war and nationalism. The Gate's history as a "triumphal arch" culminated in the parades of the Nazis and the entire destruction of its surroundings during and after WWII. Later, the Brandenburg Gate was a symbol for the division of Germany, with the Wall running behind it since 1961.
Today, it is wonderfully refurbished, standing for the rebirth of the city after German reunification. There is a reconstructed "guard room" at each side of the gate: In the Northern one, visitors are asked to keep silence - it is a public meditation space open to all religions. The tourist information office is in the Southern guard house.
Berlin Guide
Tipps & Tricks :
• The Berlin Tourist Office is located in the south building
• Several thematic guided tours begin at Brandenburg Gate - more information on our page : Guided Tours in Berlin
• Enjoy coffee and cake at the legendary Hotel Adlon.
• The Museum "The Gate" on Pariser Platz presents the history of the Brandenburg Gate in a moving way. Open on Weekend 10am to 8pm.

Address : Pariser Platz, 10117 Berlin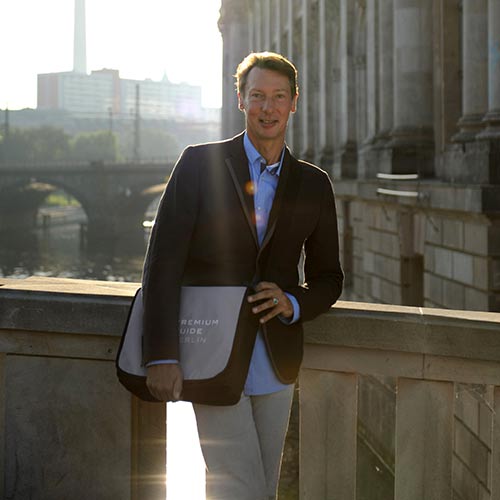 City Tour :
Order the guided tour "THE HISTORICAL BERLIN" A walk tour through 775 years of the city's history from Alexanderplatz to the Brandenburg Gate. - Information & Booking